We were in the mood for some native chow on that Sunday when we went to the
Flora Filipina Expo '09
. near the Quezon City Hall grounds. So after exploring the Expo, Serye Restaurant & Cafe located at the Quezon Memorial Cirle was the best and nearest choice we had.
Serye is a dining place that is both old and new... new, because its branches are among the new places I have seen sprouting around the Metro in the last couple of years... and old, because from what I have heard, Serye is owned and managed by the same family that is behind the success of the Aristocrat Restaurant... definitely not new in the food business, good food business, i.e.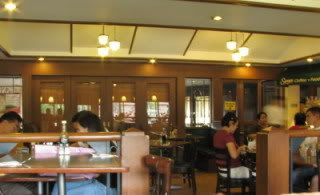 The interiors was impressive... woody, bright, cozy and clean.
They have their own line of condiments available for the diners.

Our orders... Sweet and Sour Fish, Kare Kare, Lechon Kawali with both their plain and their famous java rice... The food was cooked well, timplang pinoy talaga, and the servings size was just right.
Did we like Serye? You be the judge.

Will we come back for more? Oh, most definitely yes.