Aristocrat has always been a family favorite for decades. Sunday lunches when we were younger would mean either a Max's chicken (which I hope to blog soon) or Aristocrat's bbq with java rice along Roxas Boulevard after hearing Sunday mass.
Aristocrat had other branches around the Metro. And it was a surpise to me one time that the one in Greenhills had closed down. I was told that they had moved to another site, also in Greenhills and is now called Reyes Barbecue.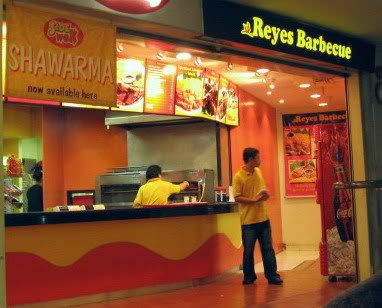 Mon and I checked it out. Same menu, same taste (more or less) and same java rice that is just perfect for my chix bbq. And a lot cheaper than the Roxas Boulevard branch.

I will never get tired of savoring such barbecued goodness!

But whatever the change in the name is really all about, I do not mind, as long as I get to enjoy my usual order of boneless chicken barbecue with java rice! Total bliss!