After that long walk at La Mesa Ecopark under the unrelenting heat of the sun, it was just befitting that we treated ourselves and our birthday celebrant, to a sumptuous lunch. Chateau Verde in U.P., provided us with that.
The restaurant is well hidden by a facade of plants and shrubs, revealed only by a narrow walkway that leads inside.
The place is set right in the vicinity of the owner's house, giving it a homey feel. The backyard was converted into the main restaurant with only a few tables, a landscaped area by the entrance, and the main counter on the far end.
A well insulated roofing and wall fans somehow kept the summer heat to a minimum. It had a very cozy outdoorsy feel.
While waiting for our orders to come, complimentary bread and pesto dip were served. Great starters indeed. The pesto was very rich in taste and blended well with the garlic bread.
Then came our Seafood soup which was just the right thickness and creaminess. The flavors of the seafoods melded very well into one delicious appetizing dish.
My brother in law had the Salpicao (Tenderloin tips). It came with garlic rice and vegetable sidings.
(Thanks, Rommel, for lending me this photo.)


My father in law had the Callos, likewise served with rice. The meat was so tender and flavorful.
I had the Lengua in red sauce. It was served with a cup of plain rice which I hardly touched since it was also served with a generous portion of mashed potatoes and veggies.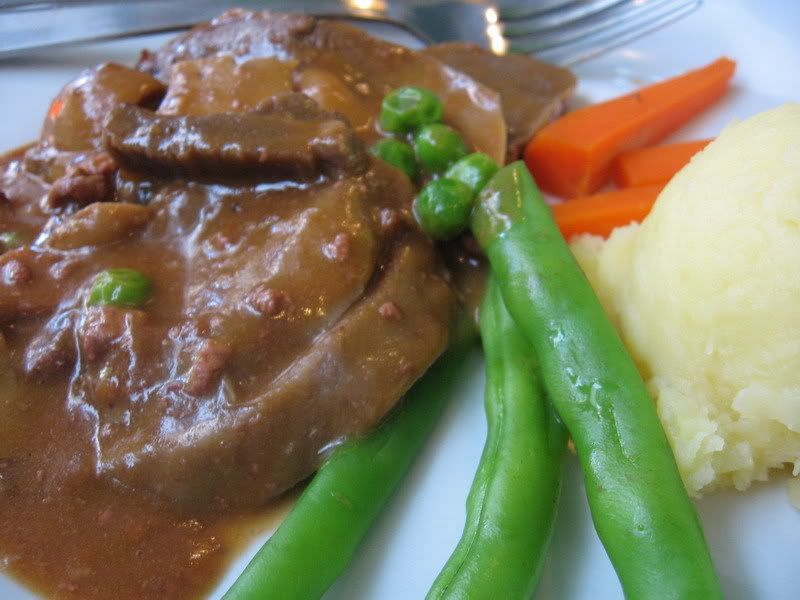 Chateau Verde has not seen the last of us yet. Surely, food as delectable as what we had is worth another trip, and another, and another.
Doesn't a hearty meal always bring out a smile from all of us!
Happy Birthday, Rommel!